From Wilmington, Chester

Take the Delaware Memorial Bridge to I-295 North
continue to US 322 East (Exit 11, Bridgeport)
continue on US 322 past NJ 55

Take US 322 East 1 1/4 miles from NJ 55 to stoplight at Bowe Blvd.

To Pfleeger Concert Hall and Boyd Recital Hall (Wilson Hall):

Turn left at stoplight (Bowe Blvd.)
take first right after railroad tracks
The Pfleeger Concert and Boyd Recital Halls are in the
second building on the right
Parking is located immediately at the road and on the left just past Wilson Hall.
The Pfleeger Concert and Boyd Recital Halls are accessible from this lot to patrons with disabilities.
Alternately, continue east on US 322 for one block to large parking lot on left
The Concert and Recital are in the building at the back of the lot, across a small footbridge

To Bozorth Auditorium and Tohill Theater

Go straight at stoplight (Bowe Blvd.) and make a left into Westby parking lot.

Bozorth Auditorium in Bozorth Hall, is a short walk east along Rt. 322.
Cross at the traffic light.
Bozorth Hall is a short walk along the right of the grassy Quad
Tohill Theater in Bunce Hall, is across the Quad. This is the building with Rowan University's trademark cupola.
Patrons with disabilities should call 856-256-4545 for parking directions.
[ Top ]
Rowan University Campus Map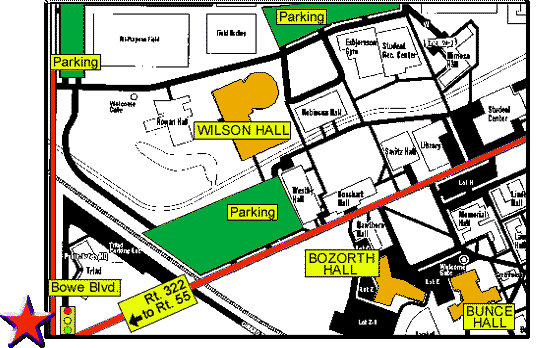 [ Top ]