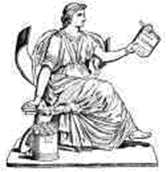 Who is Clio?


Clio the "Proclaimer" is the muse of history and is often seen sitting with a scroll and accompanied by a chest of books. She has been credited with introducing the Phoenician alphabet into Greece. Clio had teased Aphrodite's love of Adonis, and in consequence of her wrath, Clio fell in love with Pierius, the son of Magnes and the king of Macedonia. By Pierus, she bore Hyacinth.
Rowan University | Department of History | CLIO Program


History is one of the most popular academic programs at Rowan University with over 450 majors. The Department of History invites freshmen history majors to join its new learning community, CLIO. Named after the classical muse of history, CLIO is a unique opportunity to form bonds among students who share common interests. The community seeks to foster joint exploration of history and college life by offering linked courses, mentoring, and extra-curricular activities. Open to all interested history freshmen, CLIO enrolled its first class in 2006 and enrolls approximately 20 interested history freshmen each Fall.

The CLIO program is a living and learning experience for the first two years at Rowan. The primary goals of the program are to create a nurturing environment for history majors and to provide opportunities for students to work closely with their advisors and faculty.

Networking with peers and alumni will help students understand the full potential of a history degree. Explore this site to determine if you are interested in becoming part of the CLIO program at Rowan University.