Geographic Evaluation of Gloucester County
Commuter Rail
Corridor Options

John Hasse, Ph.D.

<![if !vml]>

<![endif]>
Geospatial Research Laboratory
Summer 2006
Full Technical Report (2.5meg)
Abstract
This analysis examines and compares the geographic characteristics for the commuter transit alternatives currently proposed for Southern New Jersey.  The DRPA has proposed three alternative routes for a future commuter rail system, NJ-1 utilizing the Route 42 median to Williamstown, NJ-2 utilizing the Route 55 median to Glassboro, and NJ-3 utilizing the existing Conrail rail line to Glassboro. In addition to these high-speed heavy rail options under consideration, this analysis also examines a fourth option (NJ-3b) a light-rail mode on the same Conrail corridor that would consist of an extension of the Trenton to Camden River Line.  This fourth option was added to the study to provide a cost/benefit comparison to the heavy-rail PATCO type system proposed by DRPA.  Utilizing Geographic Information Systems (GIS), the study measured the road network distance of each proposed rail line station to individual residences countywide as well as to selected destinations including: schools, restaurants, libraries among others.  The results demonstrate that the various routes have substantially different geographic accessibility characteristics and thus different transportation service potentials.  All four options provide regional accessibility to Philadelphia.  The best performing configuration for residential accessibility was NJ-3b (extension of the RiverLINE on Conrail) with 10% of Gloucester County's population within ½  mile of the proposed stations.  The 2nd, 3rd, and 4th configurations were NJ-3, NJ-1 and NJ-2 respectively with 7%, 2% and 1% of Gloucester County's population within ½ mile.  Accessibility to destinations also favored NJ-3b with 369 destinations within ½ mile followed by NJ-3, NJ-2, and NJ-1 with 145, 16 and 9 destinations respectively within the half mile distance.  The study found that accessibility to places of employment favored the Conrail option with Gloucester County's two largest employers (Rowan University and Underwood Hospital), Woodbury (the county seat), and numerous town centers benefiting from location directly on the line. While the RT 55  and RT 42 option would serve some of the newer developing subdivisions within the county with park-n-ride service, a rail line location within the highway median would provide little walk-on ridership substantially diminishing the alternate transportation benefits and thus reducing potential system usage.  Furthermore, a Conrail corridor system (NJ-3 & NJ-3b) would better serve the established town-centers of the county fostering economic revitalization while providing a substantial and viable option for non-auto travel to within-county destinations. The study concludes that the Conrail corridor options (NJ-3 & NJ-3b) will most efficiently and cost effectively accomplish widest number of transportation, revitalization and land management goals for Gloucester County in comparison to a system based along the RT 55 or RT 42 highway corridors.  Finally, the report discusses the geographic advantages of a light-rail system extension of the RiverLINE and recommends that this option be added to the public discourse regarding a Gloucester County Commuter Rail system.
<![if !vml]><![endif]>

DRPA

<![if !vml]><![endif]>

DRPA

<![if !vml]><![endif]>

DRPA

<![if !vml]><![endif]>

NJ-1 (RT 42)

NJ-2 (RT 55)

NJ-3 (Conrail – PATCO)

NJ-3b (Conrail RiverLINE)

Figure 1: Four evaluated corridor options
<![if !vml]>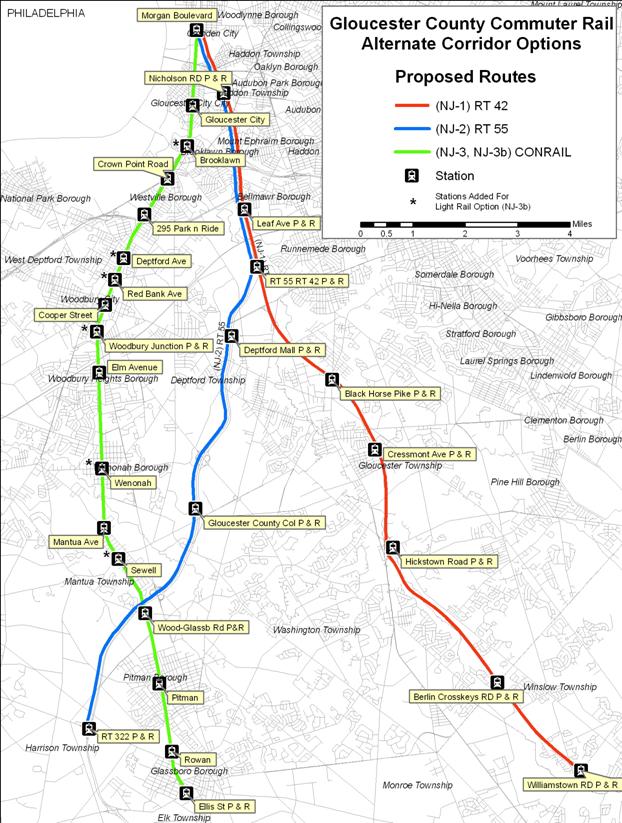 <![endif]>
Figure 6. Proposed commuter rail corridors serving  Gloucester County and southern Camden County NJ.