This guide is intended to help Rowan University students in courses and programs leading to teaching certification in science, technology, engineering and mathematics as they prepare assignments for their education courses. The majority of resources are accessible online. Selected print items are included, especially those created by professional associations and likely to be available in public libraries or school districts.

Organization:
General resources for education that include STEM education
Subject specific resources
People to See and Places to Go


General Education Resources

1. Campbell Library: Registered Rowan students can access the library off campus by signing in using their Rowan ids and passwords. Click here to go to Campbell Library's e-resources, e-journals, and e-books. Click the E-Resources tab; click on Select a Subject in the Browse by Subject box and select Education from the drop down menu. Click View. (See image below.) In addition to databases of journal articles (such as Academic Search Premier, Education Full Text, Teacher Reference Center, and Scopus), the education resources include Curriculum Resource Center and Education in Video. The library also contains a large selection of professional books and journals in education, and a collection of children's books.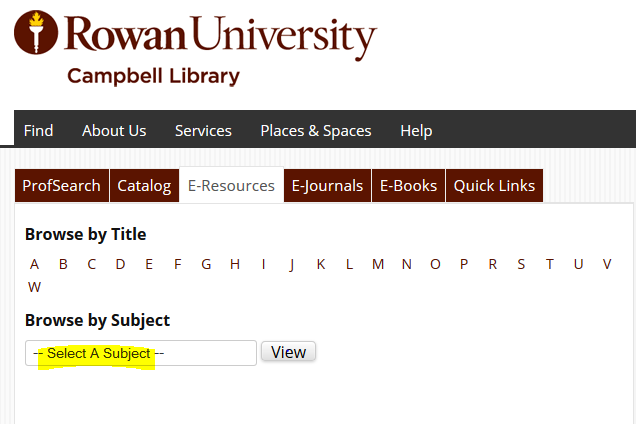 2. Schaub Instructional Materials Center: The IMC contains K-12 textbooks in the sciences and mathematics, manipulatives, journals from NCTM and NSTA, children's books, professional books, and Ellison dies. Materials need to be used on site. Click here to access the IMC's catalog.

3. Learning Resource Centers Network. Four centers located in different areas of New Jersey offer a variety of services.

Subject Resources:
There are dozens if not hundreds of online resources for teaching math and science. Here are a few to investigate

1. National Math and Science Initiative.

2. MIT Blossoms. This is a portal to a variety of resources

3. NEA Science and Math Informal Learning Educators. National Education Association's link to math and science lessons.

4. National Science Teachers Association.

5. National Council of Teachers of Mathematics.

6. International Society for Technology in Education.

People to See and Places to Go
For additional help:

1. Rowan's two former school librarians:
Dr. Debby Gaspar, Director of Public Services, Campbell Library: gaspar@rowan.edu
Dr. Holly Willett, Director, Schaub Instructional Materials Center: willett@rowan.edu

2. Your local school district

3. The district where you'll be student teaching