---
Introduction
The US consumes more energy per person than almost any other country on earth, with the probable exception of oil producers such as Saudi Arabia. Our high energy consumption provides us with many comforts--e.g., big houses and cars, long commutes, air conditioning, plentiful meat, travel--but much of the energy we use is wasted or used unwisely. The purpose of the essays provided here is to point out simple things we can do to live more efficiently and, perhaps, more enjoyably. Much of what I write here is based on personal experience or observation. As such, much of the content is simply my opinion (not those of my employer, Rowan University). Please let me know if anything I say here is factually incorrect, by citing valid sources (not just your opinion).
We can all reduce our environmental footprint and become wealthier, happier, and healthier in the process. And we can all do more (including me)!
---
Garden Shed Update (1/18/2022)
The sedums on our garden shed roof are well established.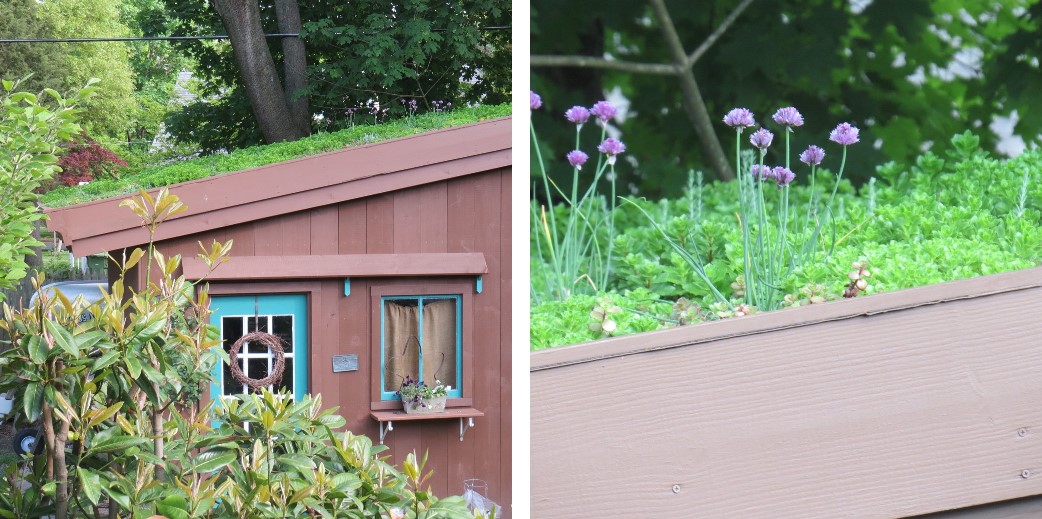 See my green roof post for more information on building our green roof garden shed.
---
Fiskars Reel Mower (1/14/2022)
Last summer I broke my electric mower while changing the blade. When I went shopping for a replacement, I ended up buying a Fiskars Reel Mower. I love it. It is as easy to use as a push electric or gas-powered mower. I am very glad to be back to Reel mowing.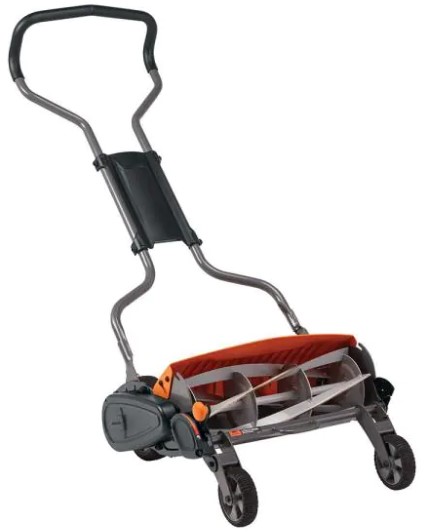 See my exercise post for more information on yard work.
---
Photovoltaics (1/14/2022)
We installed a 4.3 KW PV Solar panel system on our house circa 2005. It provides approximately 75% of our electricity. At the time, we could afford it because of a generous subsidy in New Jersey and the ability to sell Solar Renewable Energy Credits to NJ power companies. Once we paid for the system, we stopped selling our SRECs. Seventeen years on our system is still working well. The expected lifetime at purchase was 20 years and the system was expected to perform at 80 % capacity at end-of-life.
In the meantime PV costs have dropped considerably. And building new commercial electricity production using solar (and wind) is now less expensive than fossil fuel.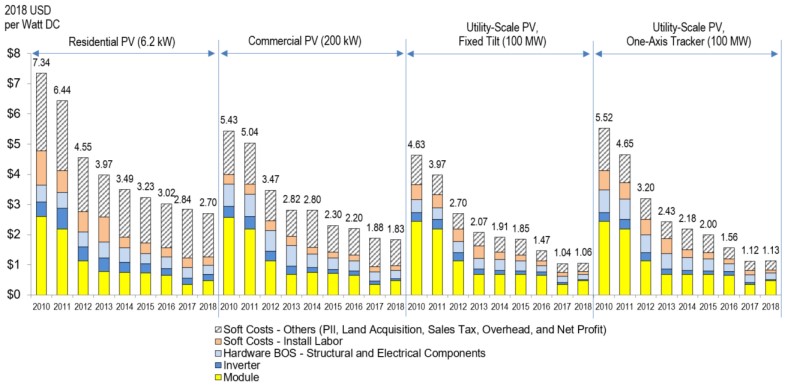 Fu, R., D. Feldman, R. Margolis (2018) 'U.S. Solar Photovoltaic System Cost Benchmark: Q1 2018' NREL, https://www.nrel.gov/docs/fy19osti/72399.pdf

Mathis, W. (2021) 'Building New Renewables Is Cheaper Than Burning Fossil Fuels', Retrieved from https://www.bloomberg.com/news/articles/2021-06-23/building-new-renewables-cheaper-than-running-fossil-fuel-plants.
See my homes post for a Google Map image of our solar panels.
---
Prius Plug-in Hybrid (1/13/2022)
We bought a new Toyota Prius Plug-in Hybrid in 2018. The car is still going strong. Combined MPG on Electricity is 133 MPG (Combined means city/highway). Combined MPG on Gas Only is 54 MPG. A majority of our trips are entirely electric. Some of the electricity comes from our solar panels, the rest from the NJ grid. According to the EIA: "In 2020, natural gas and nuclear power accounted for 90% of New Jersey's total electricity net generation."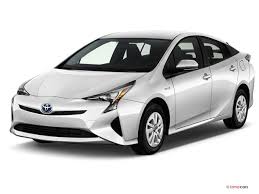 See my automotive post from 11/14/2012 for more.
---
ELF - Electric Tricycle (2/25/2016)
In summer 2016 we purchased an ELF made by Organic Transit in Durham NC (organictransit.com). The ELF is a solar-powered electric assist recumbent reverse tricycle. The solar panel charges the battery in about 8 hours on a sunny day. The electric motor can propel the tricycle 18 miles at 20 mph. You can also peddle. The recumbent seat is quite comfortable. It's a reverse tricycle because it has two wheels in front. The ELF comes in a number of configurations. Ours is a single seater with storage in a rear trunk. We can carry a grocery cart of food. The ELF has head and rear lights, brake lights, and turn signals. It's great for commutes, shopping, and riding around town.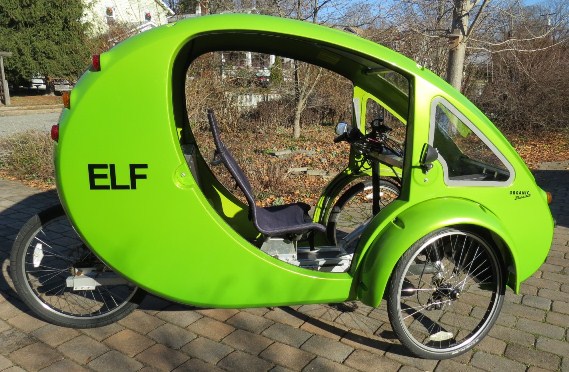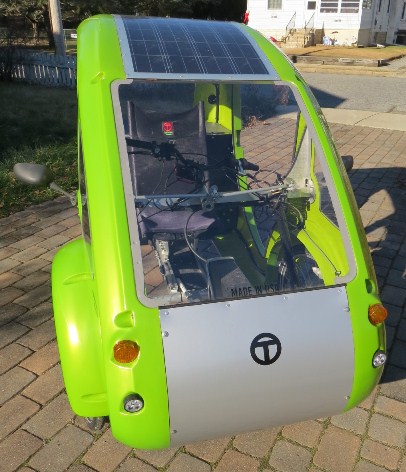 UPDATE 1/13/2022: Organic Transit is no longer in business and while I think the ELF has/had a niche, I encourage everyone to consider the many fine two-wheeled electric bikes available! I wonder, how are Vespa-style electric scooters?
See my previous posts about biking: Bike Transport and Bicycle Commuting.
---
Green Roof Shed (2/25/2016)
In summer 2016 we built a new garden shed with a green roof, based on Living Roof's Mono Shed 10 x 12 plan (www.greenroofplans.com). We modified the plans a bit and ended up with a 10 by 14 feet shed. We trash-picked the door and windows. The green roof consists of ~800 sedums planted in ~4 inches of engineered soil, on top of a root barrier, drainage layer, water retaining felt, and a waterproof membrane. We obtained sedums from Emory Knoll Farms in MD (www.greenroofplants.com). The engineered soil is skygarden green roof media from Stancills Inc. also in MD (www.stancills.com). We purchased the root barrier/drainage layer/felt as a single unit, called Retenduct 2, from greenroofsolutions.com. We waterproofed the roof with Owens Corning Weatherlock G Self Sealing Ice & Water Barrier.
The photo below shows a cross-section of Retenduct 2. The grey root barrier is separated. The water retaining felt is green. The black plastic wires form the drainage layer.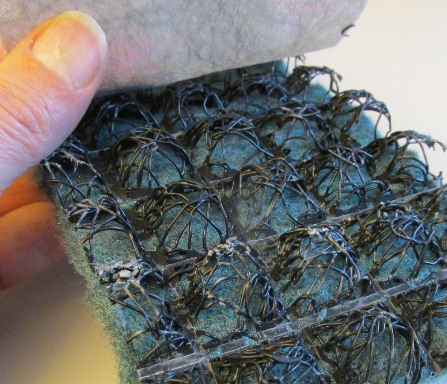 Here are the sedums shortly after planting.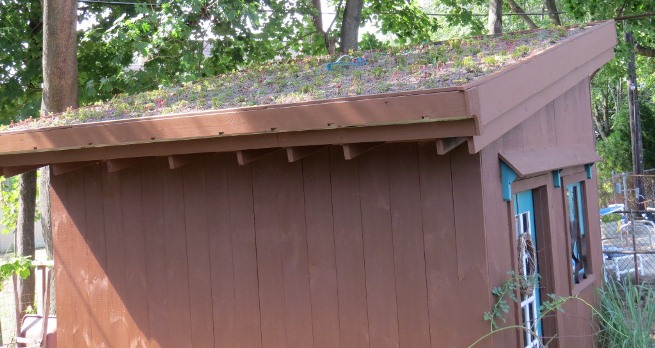 We had to water the sedums the first summer and expect to water them during summer 2017, but after that they should be good on their own. We checked them out last week and they are weathering the winter just great!
The shed looks good during a recent snowfall.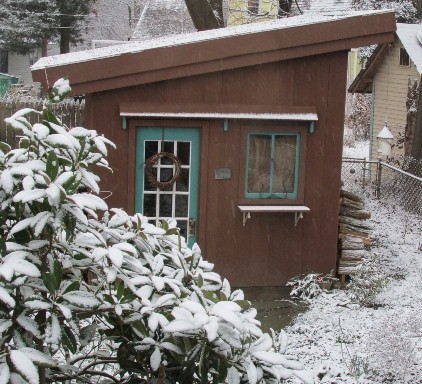 Green roofs are best used in urban environments, where they reduce the heat island effect, reduce storm water quantity, and improve storm water quality. They can also reduce cooling and/or heating costs. Because my garden shed is unheated and located in a yard that infiltrates water well, my main benefit is aesthetic. For more on green roofs, check out Wikipedia (en.wikipedia.org/wiki/Green_roof).
---
Bike Transport (9/12/2013, UPDATE 1/14/2022)
I have biked to school or work just about my entire life. It saves money, reduces pollution, and keeps me healthy. Starting in college I started shopping as much as possible on bike. The subject of this post is moving "stuff" on your bike.
I started with a Motobécane grand touring bike I purchased in 1981 shortly after my first year of college. It only took four car-bike collisions for me to learn how to ride a bike safely! I bought a Fuji Series IV touring bike in 1984 which I rode until ~2020, when I bought a Surly Long Haul Trucker. I soon added front and rear racks to the Motobécane, followed quickly by front and rear panniers. Panniers are containers or bags that attach to bike racks. Modern panniers come in waterproof varieties and many have wide opening tops. You can move a surprising amount of groceries with panniers. I currently use my original ~1981 Cannondale rear panniers and some relatively new Ortleib front-rollers. I can also recommend Wald folding metal baskets. The picture below is from a biking trip in Vermont. My bike is on the left. My wife's bike has Ortliebs front and back.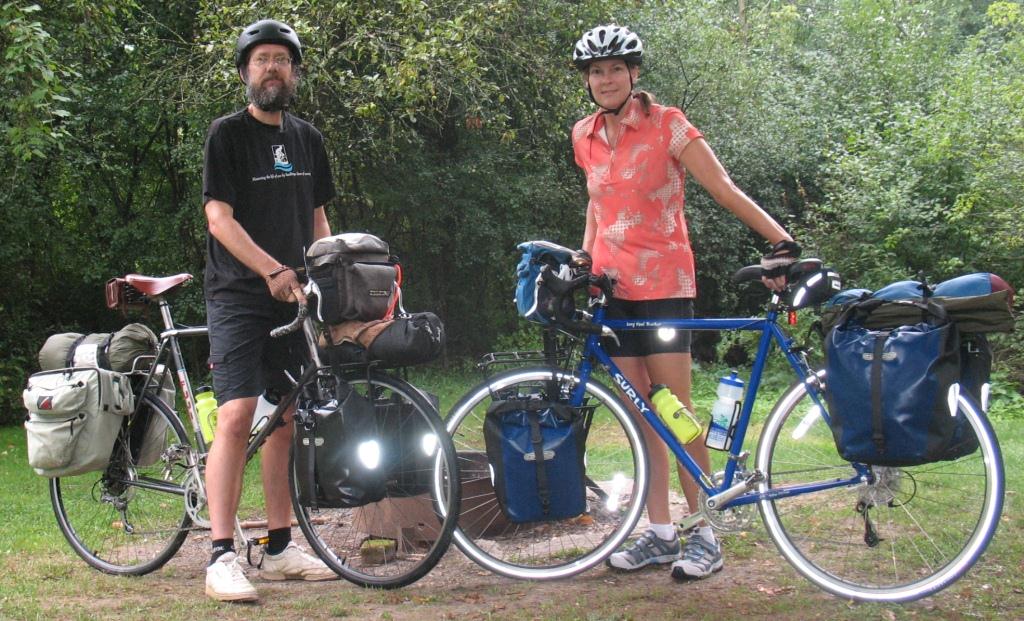 But what do you do if you want to move more things? Options include trailers or cargo bikes. I may devote a future post to various kinds, but this post will focus only on ones I have used myself. I attempted to make a trailer out of a used road sign while in college. It flexed too much to be stable at anything but very low speeds. More recently my son and I made a bamboo trailer following plans we found on the web. It worked great; however, by that time I had more options than I knew what to do with, including an old two-child trailer that my wife picked up at a yard sale for $18 dollars.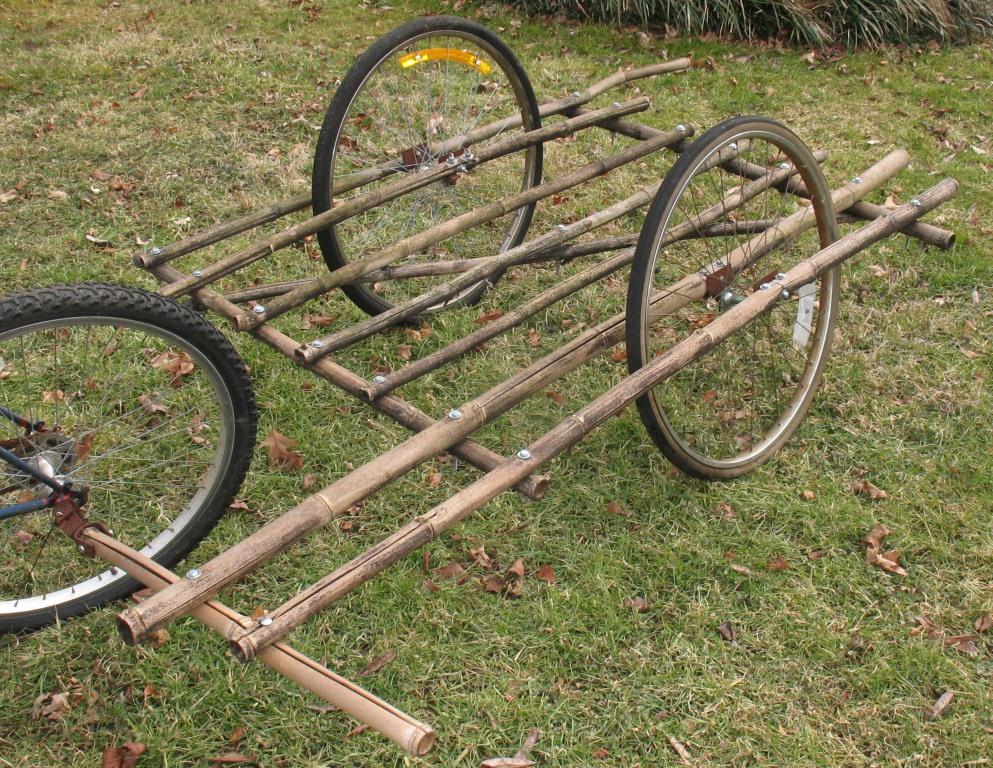 I have been lucky enough to travel to Europe a number of times, starting in the late 1980's. I immediately fell in love with classic Dutch commuter bikes and Long John cargo bikes (made since 1923). The Dutch commuter bikes have an upright geometry and are great sturdy bikes. I bought my own Dutch commuter (Transporter model) through the Dutch Bike Company of Seattle and Chicago. It was hand-made by Azor. Though not quite a cargo bike, it has a heavy duty frame and rear and front racks. The photo below shows it with a case of 12-ounce bottles on the front rack and six larger bottles in the back panniers.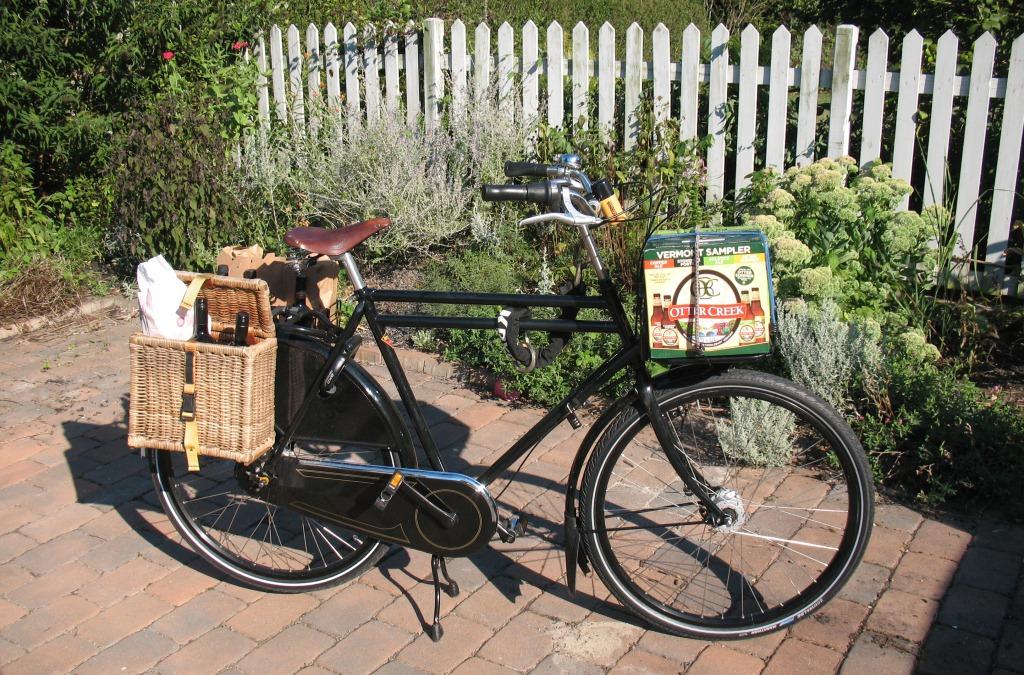 My extreme mover is my Long Haul cargo bike. Mine is made by Human Powered Machines of Eugine, Oregon. The Long Haul is a modern version of the Long John., e.g., using a chromoly frame rather than the Long John's heavy tensile steel. Mine also has a Shimano 8-speed internal hub. The Long Haul is a two-wheeled bike with a cargo area between the handlebars and a small front wheel. A steering link runs under the cargo area. The bike rides surprisingly like a normal two-wheeled bike. Its narrow width allows you to go pretty much anywhere a normal bike can go.
The rest this post is used to show pictures of my Long Haul in action. See my exercise post for a picture of the bike bringing Thanksgiving dinner home. The first three pictures below show the bike in gardening mode: bringing 150 plugs of cardinal flowers to a bioinfiltration basin project, bringing a wheelbarrow to a rain garden project, and loaded with weeds from a site, and carrying rakes, shovels. Two of the pictures include the $18 trailer.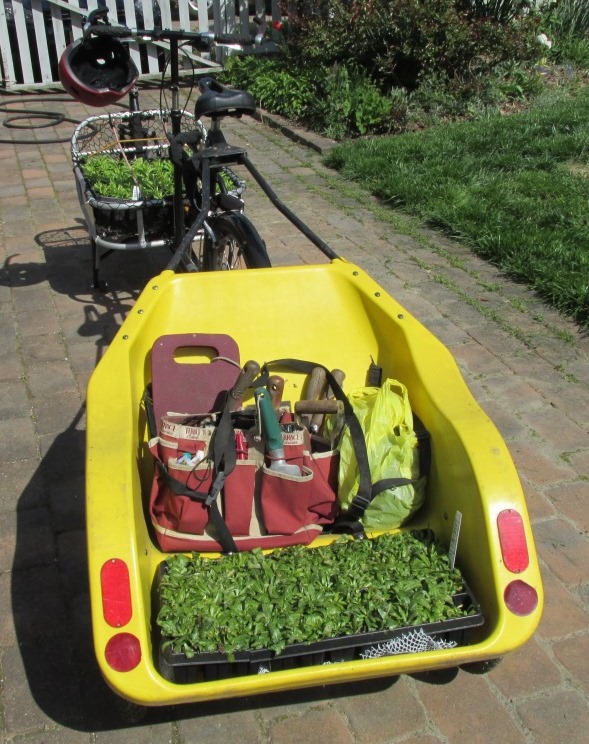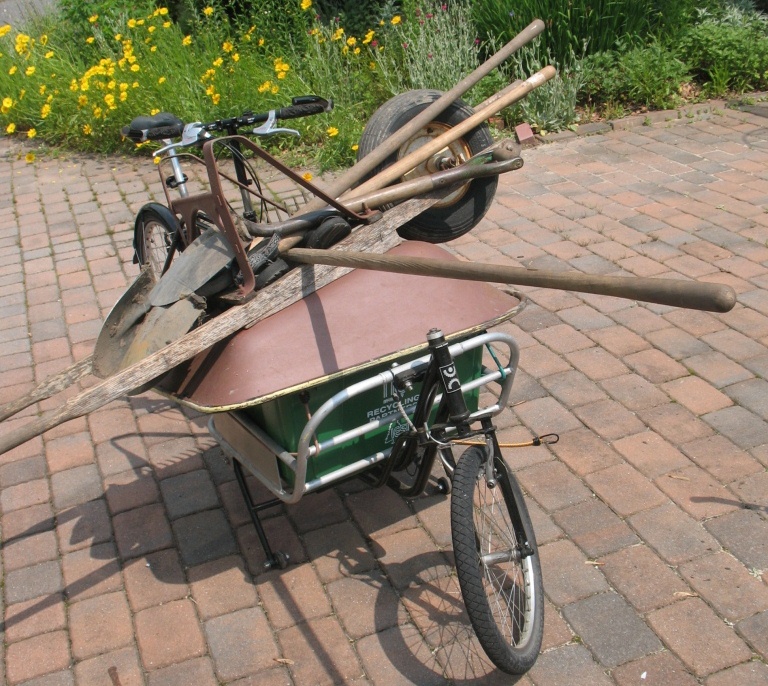 The picture below shows the bike bringing supplies to an Earth Day celebration, including two large folding tables and an EnviroScape water shed model.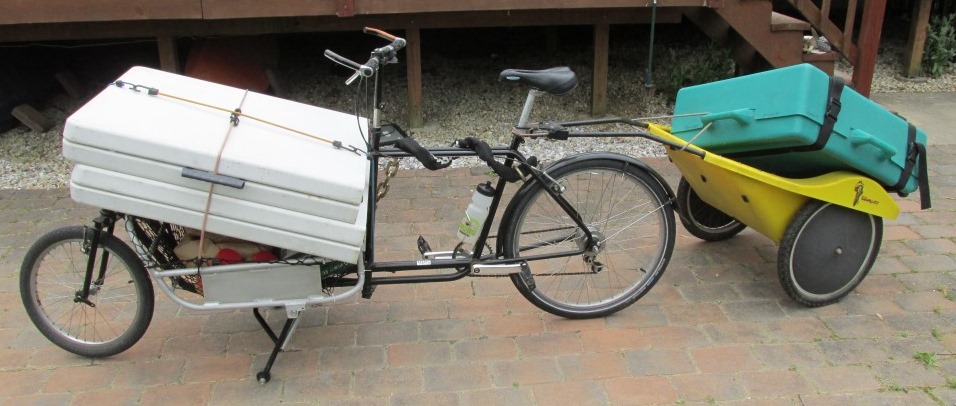 I felt perfectly comfortable bringing a new computer home on the Long Haul.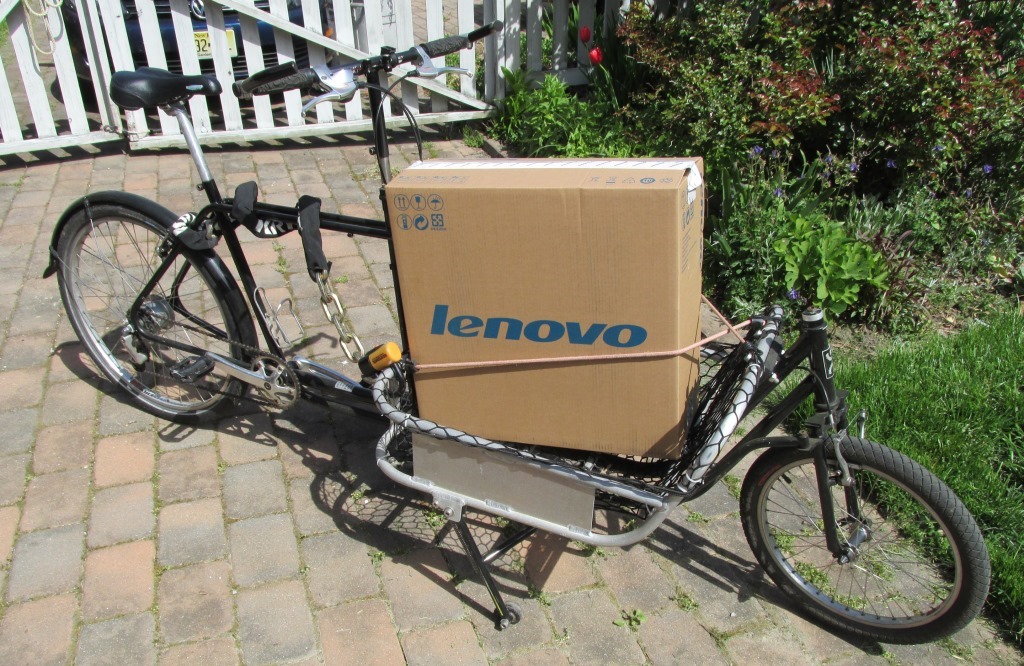 When I do not feel like taking the Transporter, the Long Haul moves bottles well. In the picture below it carries a case and a half of 12 ounce bottles as well at 7 or 8 larger bottles.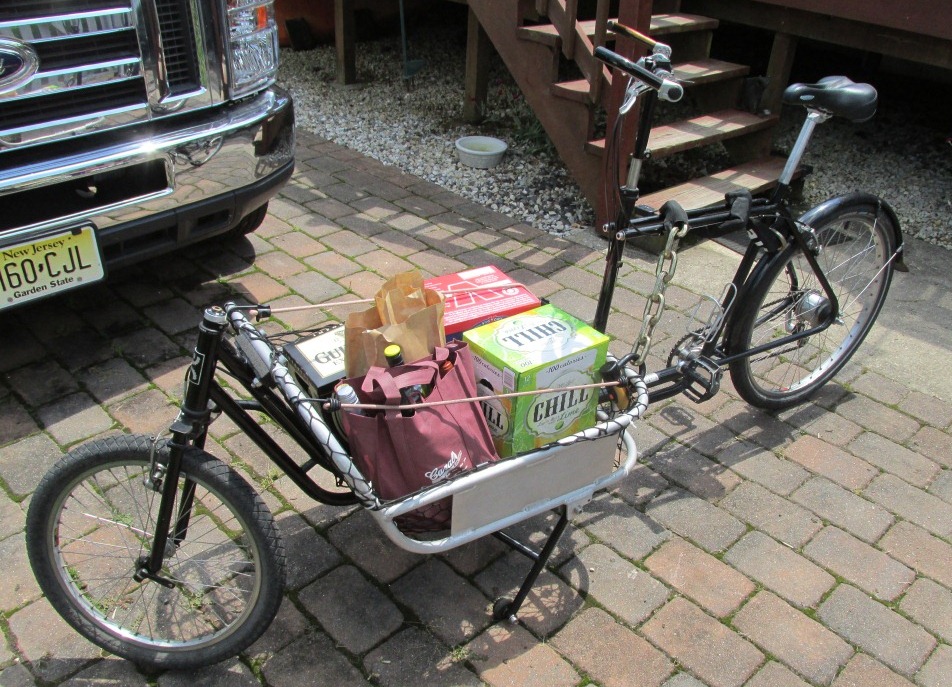 We recently installed a wood burning stove. As I bike around town I'm always on the lookout for wood. As much as possible comes home on the Long Hall.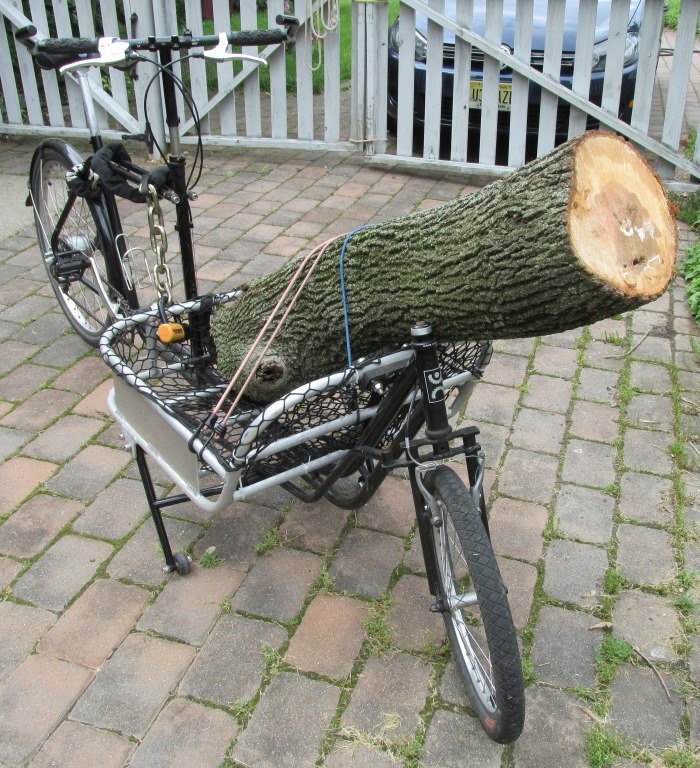 ---
Water (2/11/2013)
The US Northeast, where I live in 2013, is blessed with plentiful water supplies. Even so, we experience drought every few years and are asked to conserve water. Other parts of the US, and the world, have more limited supplies and inhabitants must constantly conserve water. Where ever you live, there is no point to wasting water. Water taken from streams and reservoirs reduces natural flow levels, negatively impacting aquatic ecosystems. Water take from aquifers (water in the ground) may exceed safe yield amounts, leading to the depletion of the water resource. Treating water to be safe to drink, or heating it for washing, consumes energy resources that would be better conserved for future generations. Using less water, especially drinking water (and even more so HOT drinking water), protects aquatic ecosystems, conserves fossil fuel resources for future generations, and reduces human-caused climate change. You can save money while protecting the earth for your children.
The proper management of water entails three things: using drinking water wisely, properly managing storm water, and reusing waste water where possible. At my house we have done some things in the first two areas. I hope to eventually reuse wastewater.
To use less water inside your home, invest in low flow shower heads and toilets. All shower heads sold in the US should deliver less than 2.5 gpm (gallons per minute); ultra-low flow heads generally deliver less than 1.5. A shut off lever mounted on the head is very important. Our low flow shower head is shown below, with the shut off lever set to the open, partially closed, and no flow settings. Even with the lever full open, we adjust the main flow control (not pictured) to produce just enough water for comfortable rinsing.

The lever on the shower head is great for taking a "Navy Shower", i.e., quickly getting wet, turning off the water to soap or shampoo up, and then turning the water back on to rinse off. I modify my Navy Shower in the winter because we keep our house rather cool; I turn the water down but not completely off during the shampoo/soap phase. The spray is just enough to keep me from getting cold. A 15 minute shower with the water full on can take more than 30 gallons of water; according to Wikipedia a Navy Shower takes about 3 gallons of water. Similar strategies can be used to save water while washing your hands or brushing your teeth; basically, only run the water when you NEED it.
I recent toured Elfreth Alley in Philadelphia (www.elfrethsalley.org). It is known as the United States' oldest residential street, continuously lived on since the early 1700's. According to the tour guide, many early inhabitants changed clothes twice a year (from summer to winter garments and back again), which is also the only time they took a full bath. The rest of the time they made do with a wet cloth. Is a Navy Shower that much of an inconvenience? Do we need to shower every day? Wash our hair every day?
We consume fossil fuel whenever we use hot water. A cool or lukewarm shower significantly reduces hot water consumption. We keep our house pretty warm during the day in the summer (79 to 81oF); a lukewarm or cold shower is refreshing under these conditions.
Another way to use less water is to invest in a dual flush toilet. All toilets sold in the US use less than 1.6 gpm. Dual flush toilets use even less water. Ours is shown below. If the toilet bowl contains urine, we press the button on the left and it uses 1.1 gpm of water to flush. If it contains feces we use the right button to use the normal 1.6 gpm.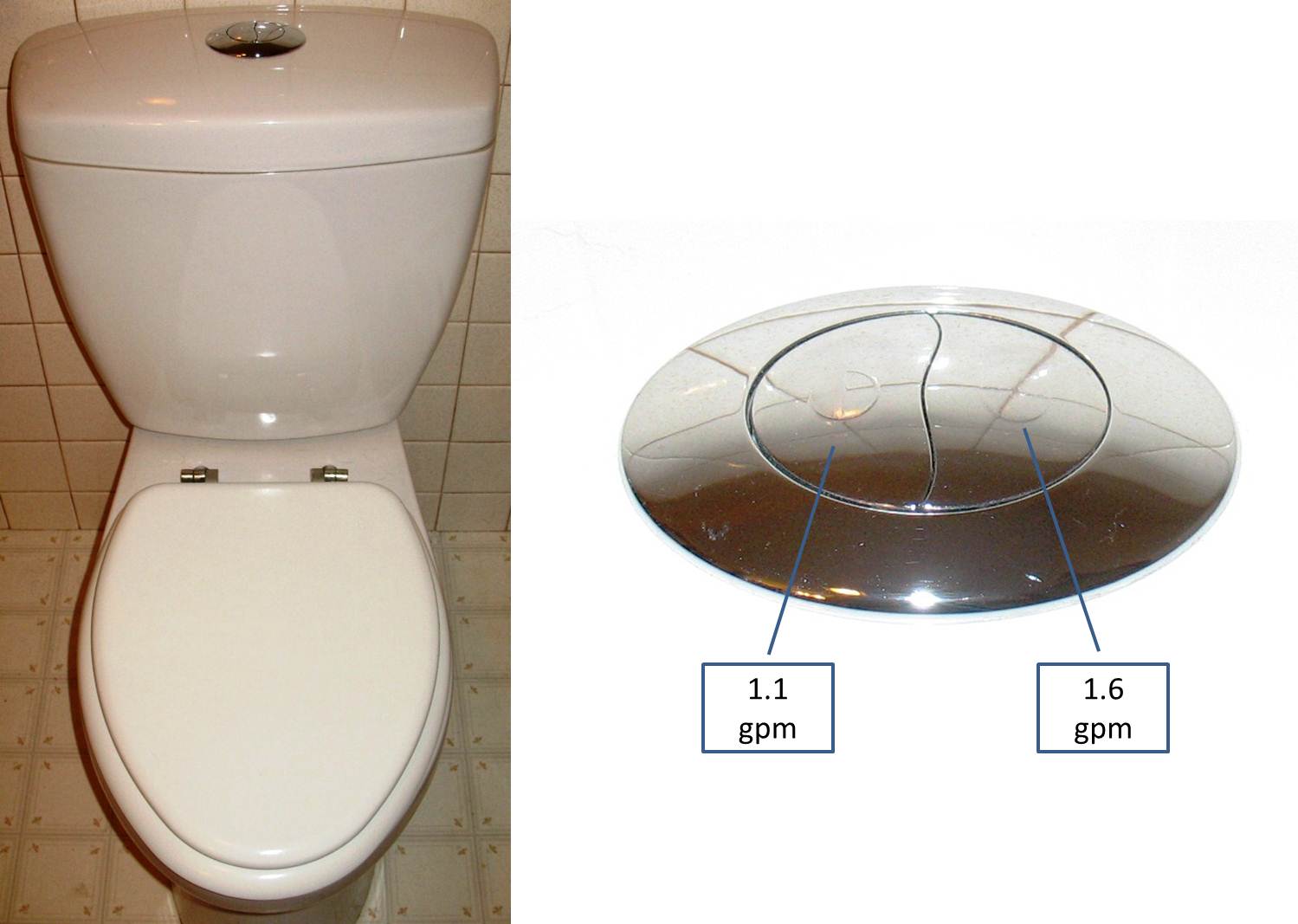 If you really want to go the extra mile: avoid flushes to save the most water. A green community I lived in while in college followed the dictum "If it's yellow let it mellow, if it's brown flush it down". :)
Occasionally, you can safely avoid using a toilet entirely! Peeing on an inactive compost pile can jump start the microbes (urine contains nitrogen). For that matter, dilute urine (5 parts to water to 1 part water or more) makes a decent fertilizer, though over application may build up salt levels. Dual chamber toilets allow for separate collection of urine and feces. Not only can the urine be used as fertilizer, feces kept separate from urine can be composted more easily.
The Brazilian environmental group SOS Mata Atlantica (www.xixinobanho.org.br) started an interesting campaign to convince people to pee in the shower. Check out their TV ad on You Tube. Peeing in the shower saves one toilet flush.
I made a solar heated outdoor shower last summer. I started by purchasing a camp shower bag for about $10: a black plastic bag with a plastic tube and shower head. Filling the bag with water and placing it in the summer sun for about 3 hours produces enough hot water for a comfortable shower. For privacy we made a shower stall using local bamboo and an old tent. The system works great and our hot water heater burns less natural gas! It also waters the yard and reduces the volume of sewage we produce.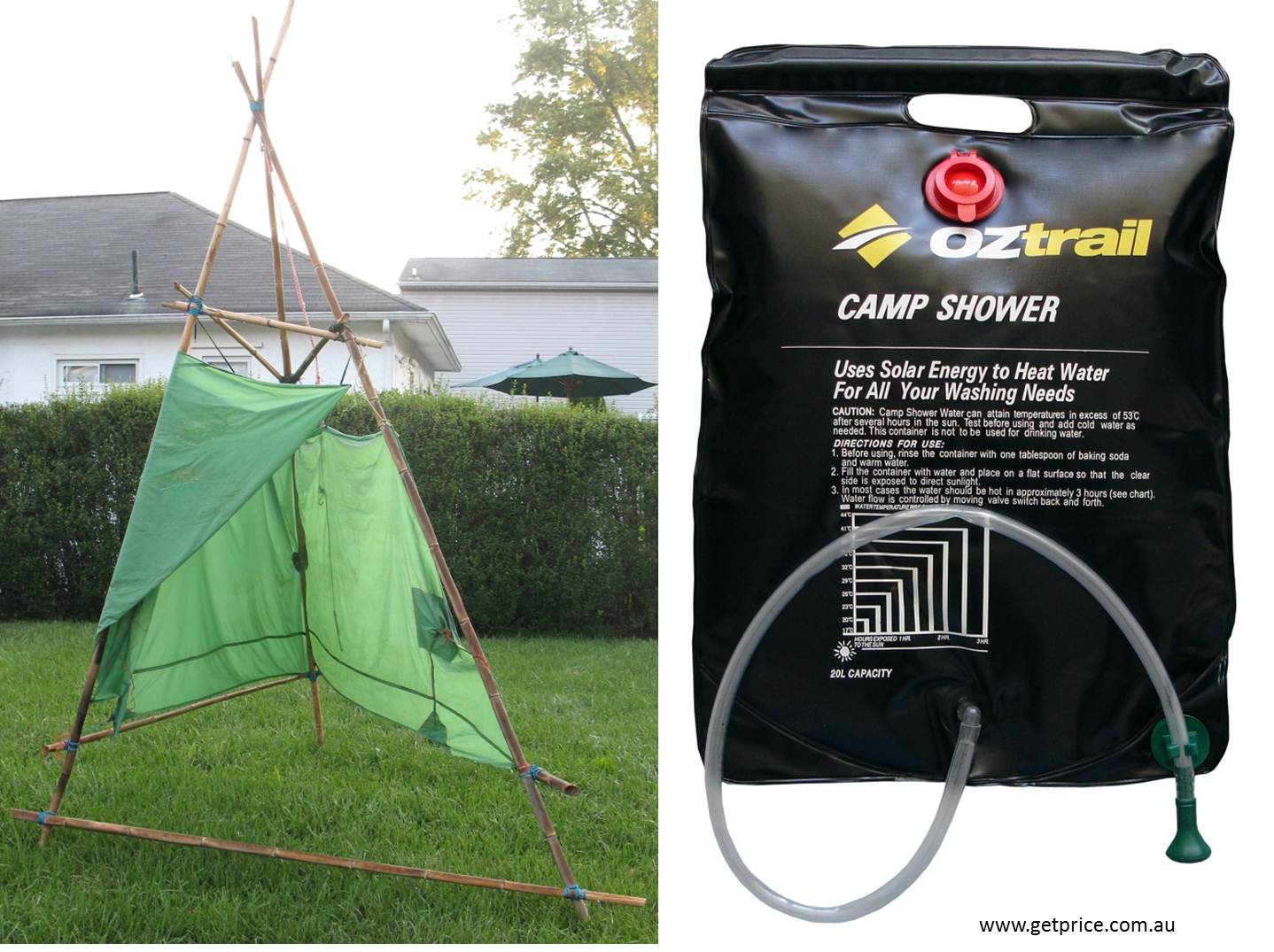 UPDATE 1/14/2022: Starting in 2017 I swim in a lake almost every day during the summer and I only shower about once a week. And I don't have a good spot for the solar shower anymore.
The other main water consumers inside our houses are the clothing and dish washers. Make sure you purchase Energy Star appliances that conserve water. We purchased a front loading clothes washer a few years ago, in part because it uses less water. We only run it using cold water, saving the fuel that would otherwise be used to make hot water. Modern clothes detergent work fine in cold water. Our dish washer is also a low water model; this is especially important as I know of no dishwashers/detergents that work well with cold water.
To use less water outside of the house, water the lawn as little as possible. If possible, avoid having a lawn or plantings that need much (or any!) watering. We top dress our lawn with compost every once in a while. The compost helps hold water in the soil. We let the grass go dormant in the summer if rain is sparse. We rarely water the lawn more than once or twice a summer and have a healthy lawn (you can see some of it in the outdoor shower picture above). If you need a sprinkler system you have the wrong type of yard or plantings for your local environment.
You can collect rainwater and use it to water your yard or garden. We were lucky enough to get a free barrel from a friend who found a company giving away used plastic barrels (they had contained juice concentrate). I cut out a square hole in the top for the downspout, and drilled a hole to install a garden hose spigot near the bottom. Every time it rains we get a barrel full of water for the garden. Garden stores sell fancier versions that come ready to go.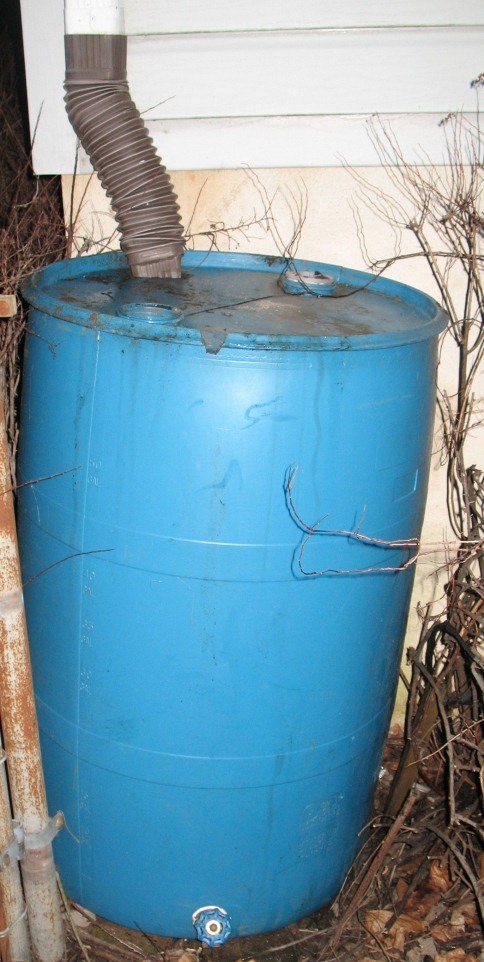 A community's storm water management system collects water running in the street and sends it to a nearby stream. This makes streams flashy: big when it rains and small between rains. In a natural ecosystem most rain is taken up by plants or soaks into the ground. Groundwater slowly makes its way to a stream, supporting stream flow between rains. Anything we can do to safely manage rain in our yards protects the nearby streams.
Try to minimize the number of times you wash your car each year and, when you do, park it on the yard so the water soaks into the ground rather than flowing into the street. Never extend your downspouts so water from your roof flows directly into the street (unless that is the only thing that keeps your basement from flooding). In many communities it is not legal to run your downspouts to the street.
You can also keep rainwater in your yard by creating a rain garden. A rain garden is simply a depression in your yard with lots of water loving plants. It fills with water when it rains and then quickly empties as the water soaks into the ground. In some case it may be necessary to work the soil below the rain garden, or even replace it with more permeable soil, to get the water to soak into the ground quickly enough. Search 'rain garden' on the internet for many sites that give more detail and identify good plants.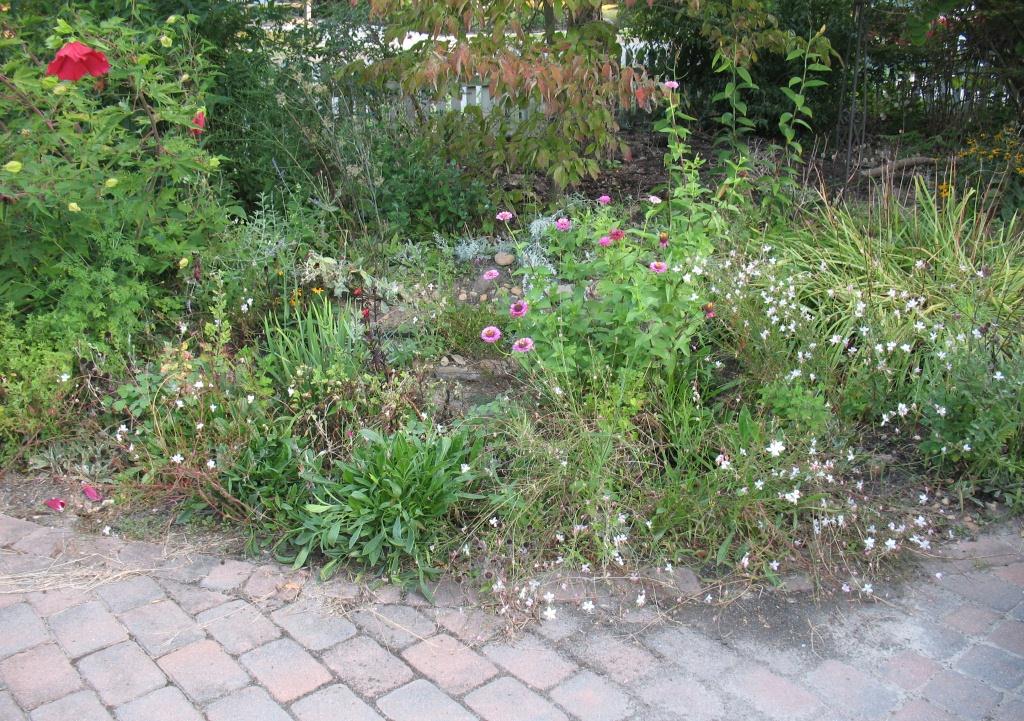 Our rain garden is shown above. Our driveway is sloped to direct rainwater into it. It's hard to see with all the plants, but the rain garden is about a foot deep in the middle. We were lucky; we just dug it out, put in some plants, and were ready to go. The water soaks into the ground very quickly, thanks to our sandy South Jersey soil.
Though we aren't yet able to reuse waste water at our house, I want to mention one method that is growing in popularity: grey water reuse. Grey water comes from your sinks, showers, clothes washer, and dish washer. Grey water can be used for irrigation or to flush toilets. Most states and communities regulate the use of grey water and require on site treatment, so check out your local requirements before you install a system.
We can all use less water, protecting ecosystems and conserving the resources used to deliver and heat the water. Save money and help future generations!
---
Exercise for Life (1/18/2013)
Many Americans live a sedentary life. They drive to where they work, shop, and even exercise. They drive so much they do it without thinking, even for short trips where they could easily walk or bike. They pay someone to cut their lawn, clean their gutters, power wash their house, or walk their dog. For the chores they do themselves they buy 'labor saving' devices. The combination of sedentary lifestyle and abundant and, too often, unhealthy food has created an obesity problem in the United States. According to the Centers for Disease Control and Prevention over one third of US adults are obese (CDC 2012). Annual related medical costs are over $150 B.
I am 50 years old and have a BMI of 23, which is the middle of the desired range. My standing heart rate is about 55 beats per minute. I don't take vitamins. I don't take any medicines regularly. I don't lift weights. I don't do calisthenics. I don't go to exercise class. I belong to a gym, but only so I can play racquetball. How do I stay fit? By eating reasonably well and building exercise into my life.
I don't overeat and I eat reasonably healthy food. I eat little meat, lots of fruit, and a decent amount of vegetables. I don't snack a lot and I limit my intake of alcohol. I build exercise into my life. I do this in three primary ways. First, I travel by bike or foot as often as possible. Second, I maximize the amount of exercise I get from household chores. Finally, I engage in enjoyable hobbies that involve fun exercise.
I can travel by bike or foot because I choose to live close to work in a small walkable community (~9,000 people in 2.3 square miles). I walk or bike downtown to go to the library or to eat out. I ride a bike to work and shop, including groceries. Originally, I used a bike trailer that we bought at a yard sale for $18 dollars. My commuter bikes have multiple racks, so I can use them for shopping as well. More recently (because I am a bike nut!) I purchased a cargo bike. It can carry a grocery cart's worth of food. The picture below shows it bringing home Thanksgiving dinner.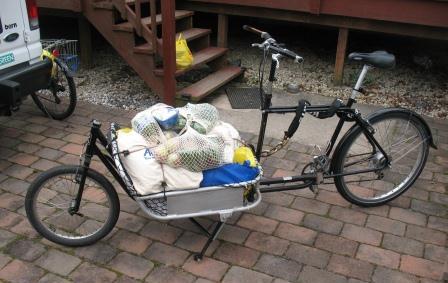 Travel choice effects health. Basset et al. (2008) investigated the link between travel choice and obesity in a number of countries. Only ten percent of trips in the US were accomplished by walking or biking, 47 % in the Netherlands. While 23.9 % of US citizens were obese, only 8.1 % were obese in the Netherlands. All amounts were measured in 2001 or 2002, except travel mode in the Netherlands, which was measured in 2006.

Health can be improved by maximizing the exercise we get while doing chores. At work I always take the stairs and I walk or bike to get across campus. At home my wife and I do our own yard work. This entails spreading compost, weeding, planting, edging, pruning, and, of course cutting the grass. I have never purchased a self-propelled or riding mower, as that would deprive me of exercise!
For approximately 15 years in the 80's and 90's I cut the grass with a reel mower. With a reel mower you are the engine! Modern reel mowers are much lighter and easier to push than the 20th century models. My latest model during that period was a Scotts 20'. The cutting height adjusted up to 3 inches and it cut an 18 inch swath. According to Caloriecount.about.com (2012) a 150 pound individual burns 420 calories per hour pushing a reel mower, 385 pushing a power mower, 315 guiding a self-propelled power mower, and only 175 driving a riding mower.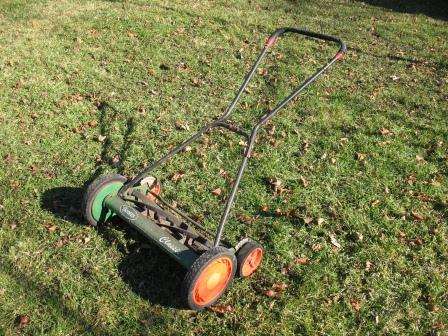 About 7 years ago we made the 'mistake' of top dressing our yard with compost and applying corn gluten a couple of times. Corn gluten is a natural pre-emergent and fertilizer. The combination gave us a strong lawn that grows so fast in the spring and fall that it is difficult to keep up with a reel mower. A disadvantage of reel mowers is they have a hard time cutting long grass. Subsequently, I switched to an electric mower. I prefer to avoid batteries as much as possible, so my electric mower is the plug in type. Electric mowers are inexpensive to purchase and operate, quite, and require almost zero maintenance. They also pollute much less than a gasoline powered mower, even if the electricity comes from coal! The two cycle engines common in gasoline powered lawn motors are notorious polluters. According to the US EPA (2012), replacing 1,000 gasoline lawn mowers with electrics is equivalent to removing 230 cars from the highways.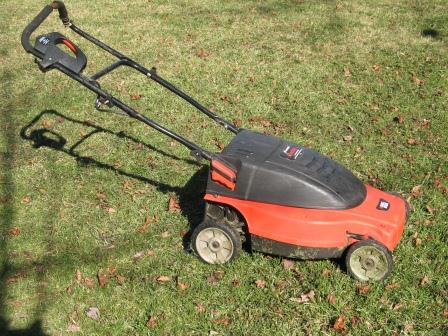 Another yard-work related opportunity is edging. I have over 250 feet of sidewalk and driveway. Instead of using an electric or gasoline powered edger, I use the human-powered edger shown below. It gives me a good cardiovascular workout while working the arm muscles.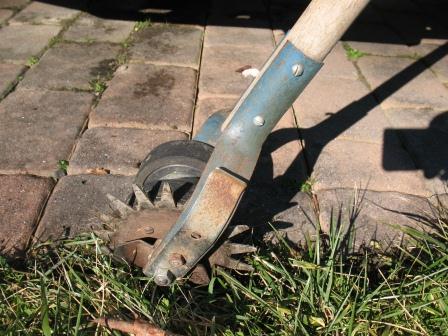 The last thing I do to stay healthy is enjoy hobbies that incorporate exercise. I ride road and mountain bikes for fun. I play racquetball, tennis and golf regularly and play badminton, ultimate Frisbee, volleyball, etc. when I get a chance. We also do some orienteering. Vacations often involve hiking, biking, swimming, cross country skiing, downhill skiing, snow shoeing, or canoeing. All of these activities are fun AND good exercise.
So don't be one of the third of Americans that are obese. Eat right and incorporate exercise into your commute, chores, and fun time. If you aren't ready for vigorous activity, start out by walking. Walking is a great form of exercise that is easy on the joints and muscles. And every time you avoid using a motor you save money, reduce pollution, and help minimize human-caused climate change!
Bassett, B., J. Pucher, R. Buehler, D. Thompson, S. Crouter (2008) 'Walking, Cycling, and Obesity Rates in Europe, North America, and Australia' Journal of Physical Activity and Health, 5:795-814

Caloriecount.about.com (2012) 'Activity Expenditure Details', caloriecount.about.com, accessed 12/27/2012.

CDC (2012) 'Adult Obesity Facts', www.cdc.gov, accessed 12/27/2012.

EPA (2012) 'Outdoor Air - Transportation: Lawn Equipment - Additional Information', www.epa.gov, accessed 12/27/2012.
---
Composting (1/4/2013)
If you have a yard, deck, porch, balcony or basement there is no reason to send food or yard waste to a landfill, incinerator, or a central composting facility. You can easily turn your organic waste into compost, a soil amendment that slowly releases fertilizers into your yard or garden. It also saves your town money on collection and tipping fees. Waste collection can be the second largest expense for any US town. In South Jersey it costs as much as $85 a ton to tip waste at a landfill or incinerator!
I started composting as a college student in Durham, NC. I took some scrap lumber and chicken wire and made a simple bin in the back yard of our rental house. We put leaves and foods scraps in it. I suppose we turned it every once in a while, but not often.
When we bought our first house we had a large garden. I got ambitious and built a three bin composter with wood rails that fit into slots in the font. As you added yard and food waste to the first bin, you added rails. When the first bin filled up, you emptied it into the second bin. When the first bin filled up again, you moved the second bin's materials to the third and the first bin's materials to the second. You added or removed rails from the three bins as needed. When you needed compost, you took it from the third bin. Ours looked something like the one shown below, from the University of Minnesota extension service (UM Extension 2008).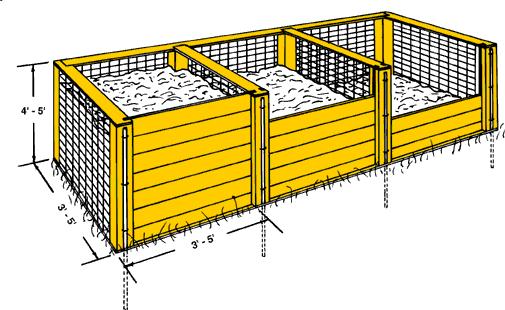 When we moved to Oklahoma a few years later, we could not take our fancy (and heavy) three bin composter with us. We bought a plastic box composter with a lid, like the one shown below (www.mnn.com). It narrowed a little from the bottom to the top. You dumped materials in the top. When you needed to turn the compost you lifted the bin off, set it down next to the pile, took off the top, and pitchforked or shoveled the material back into the bin.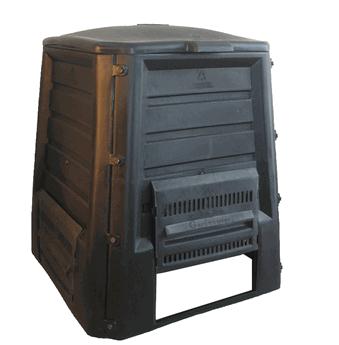 The keys to composting are carbon, nitrogen, oxygen, and water. All are important to the microorganisms that break down leaves, grass, brush, wood, and food wastes into compost. Carbon primarily comes from leaves, brush, and woody materials. Nitrogen comes primarily from green materials, such as grass. A pile that is high in carbon will compost slowly, not always a bad thing. A pile of leaves will turn into compost eventually and never need turning. Shredding the leaves will speed things up.
Composting a pile that is too high in nitrogen may result in the production of ammonia gas, with a bad odor. A pile that is too dry will also compost slowly. One that is too wet may run out of oxygen, causing bad odors. Most back yard composters introduce oxygen by turning the compost pile. Adding bulky materials such as brush, shredded paper, sawdust, or leaves can help keep a pile aerobic.
Managing the parameters described above will stimulate the composting microorganisms, heating the compost point to the point where seeds are killed. That is why good compost does not sprout weeds. Numerous website can help you start composting your food and yard waste.
We currently have three compost bins. The first is for vermicomposting. The second is an Envirocycle tumbling composter. The last is a simple cone of chicken wire.
The vermicomposter uses worms to convert coffee grounds, small food scraps, shredded paper, and sawdust into compost (see below). The paper and sawdust are added to bulk up the compost, allowing oxygen into the material. When one layer gets full, we start a new one on top. Once the worms move into the new layer, we can remove the lower layer and use the compost. We also get a "compost tea" out of it, a liquid that supports plant growth. We keep the vermicomposter in the basement. It produces no odor.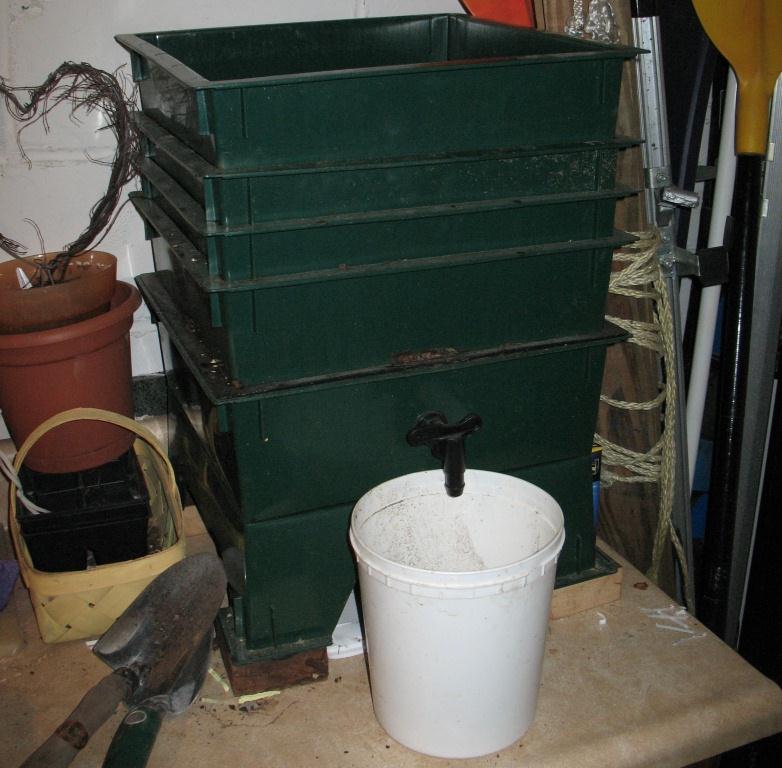 The Envirocycle tumbler gets the big food scraps, leaves, and small brush. Most of the time we let grass clippings lie where they are cut. Occasionally, we collect them and put them in the Envirocycle to add nitrogen. Collecting grass clippings for any other reason robs your lawn of nutrients while wasting your time and your town's waste collection budget (if you put the grass clippings at the curb).
We give the Envirocycle a spin every time we add material. This tumbles the material inside and introduces oxygen. The Envirocycle rests on a number of small wheels set into a base that makes it easy to spin. The base also collects compost tea. When the Envirocycle tumbler gets too heavy to turn, we let it sit for another 2 weeks and then roll it to wherever we need compost. If we managed our carbon, nitrogien, and water level better we could get it to compost faster, but we are happy with things as they are.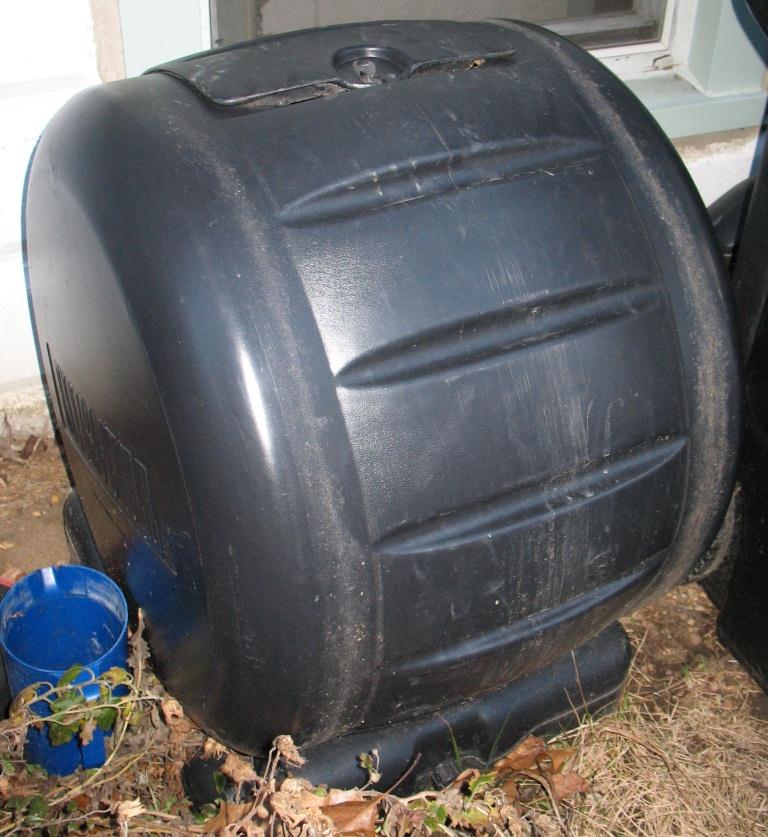 Everything that is too big or too weedy for the vermicomposter or Envirocycle goes in the chicken wire container. We also use it when the Envirocycle is full and we are waiting for a batch to mature.
You can see that we have tried a number of composters and composting methods. They all worked great. Pick the one that fits your situation and get started! It's easy and good for your yard and town!
UM Extension (2008) "Composting and Mulching: A Guide to Managing Organic Yard Wastes", www.extension.umn.edu, accessed 12/29/2012.
---
Homes (12/10/2012)
Buildings consume much of the energy used in the US each year. We live in a fairly typical American house, a 1920's wood frame cottage with an addition built in the 1990s. It's bigger than we need now that the kids are moved out; we will eventually move to a smaller home.
Most of the windows had been replaced with reasonably efficient double pane windows before we moved in; we replaced three windows that were in poor shape. We also added insulation in the attic, the most important place to have good insulation. We've never investigated the insulation in the walls of the older part of the house (probably should). We switched all of the incandescent light bulbs to compact fluorescents (CFL) in the late 1990s. In a typical house, CFLs will pay for themselves in a few months, because they use much less electricity then incandescent (see calculations below, which do not take into account the longer lifespan of the CFL). CFLs contain mercury, so they must be disposed of through special household waste collection programs. LEDs are catching up to CFLs; they are recommended for accent lighting, and may work well for other situations. [1/23/2022 UPDATE: LEDs have caught up and are now the least-cost option across the board.]

In 2005 we took advantage of the generous Renewable Energy Rebate Program in New Jersey to have 28 solar panels installed on our roof (see the grainy Google Maps image below; the panels are installed in two groups). When they generate more electricity than the house consumes, our meter goes backwards and our house sends electricity out onto the grid (where it is consumed by our neighbors). We typically generate excess electricity from May to December, purchasing electricity only in January, February, and March.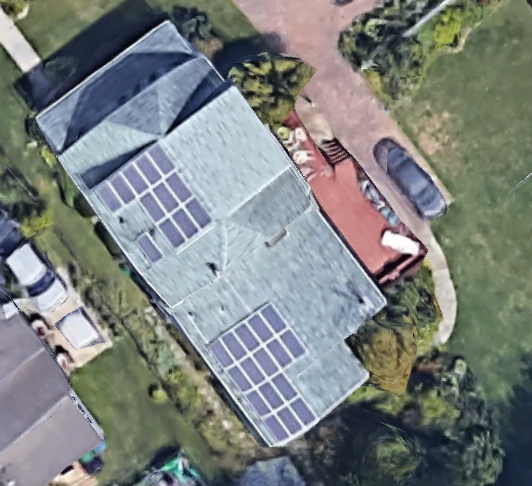 With the solar panels installed, we attempted to further minimize our consumption of electricity. Where possible, we plug our appliances into power strips. Many appliances draw power, called phantom or vampire power, whenever they are plugged in, even when "turned off"! When our computers, televisions, stereos, DVD/CD/VHS players, cell phone chargers, and battery chargers are not in use, we shut them down AND turn off the power strip. Only then do they consume zero power.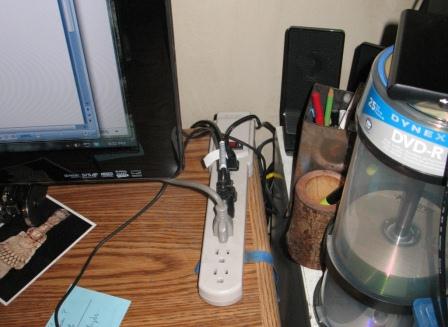 My son and I built our own charging station for cell phones and batteries (see below left). We used wood reclaimed from shelves taken out of a building that was being renovated. The charger uses electrical outlets connected to light switches to easily disconnect chargers when not in use. Of course, simply unplugging your chargers when not in use will also eliminate phantom draw. A single outlet switch can be used to disconnect isolated appliances, e.g., the kitchen laptop/docking station shown below (right).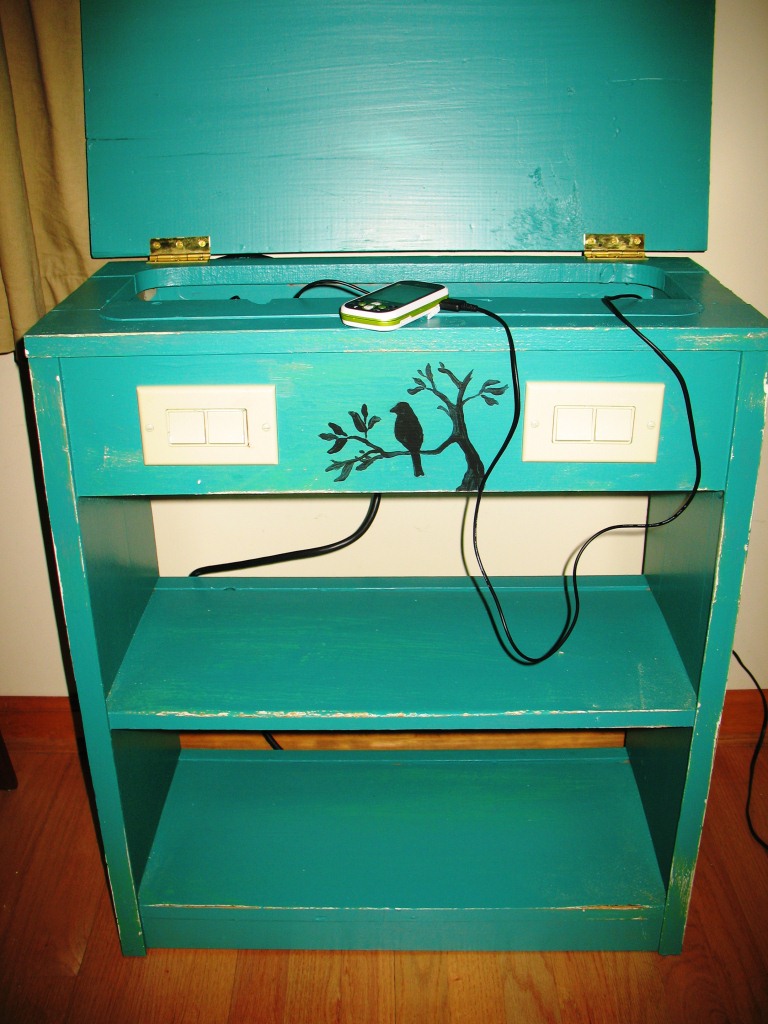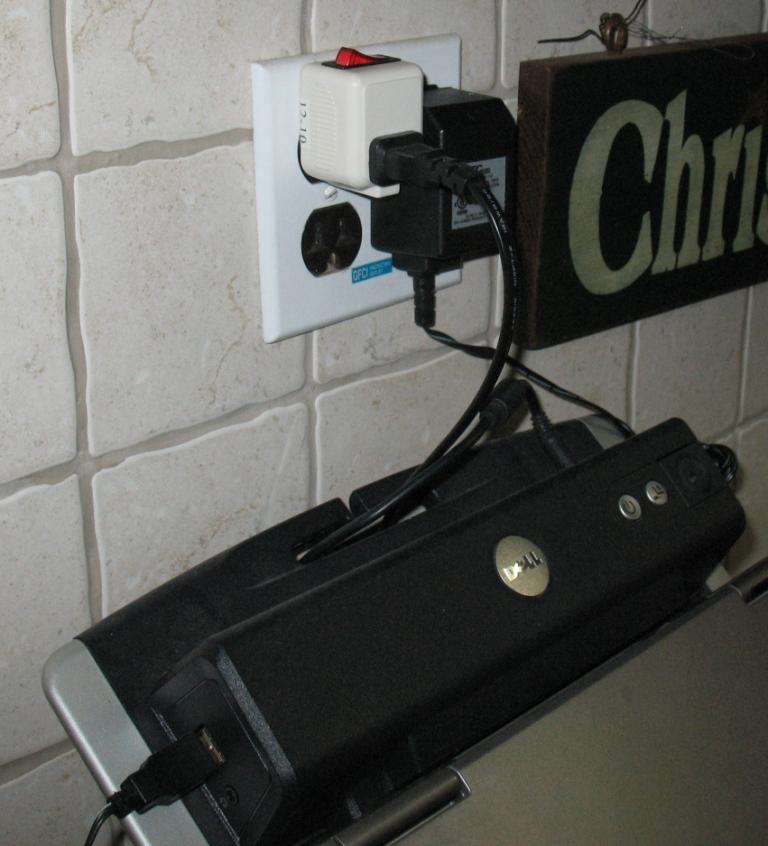 When the ballast in the florescent tube fixture in the kitchen failed, I cut it out of the electrical circuit and installed LED four foot tubes. Though expensive, they draw very little power and are expected to last 20 years or more. The ones pictured below are probably not the ones I installed; I used a conveniently available image from usa-leds.com (no endorsement intended).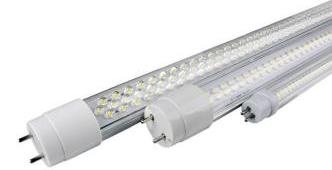 Of course, everyone should use energy efficient appliances. The Energy Star (www.energystar.gov) program provides information on many products.
Reducing your electrical consumption saves you money, reduces our reliance on foreign oil, saves natural resources for future generations, and reduces human caused climate change! Join the team by implementing the simple strategies described above!
---
Automobiles (11/14/2012)
America has a love affair with the automobile, a love affair that has shaped our county. The population of the US was approximately 76 M in 1900. As I write it is almost 315 M. A significant portion of our towns and travel infrastructure were built during our automobile love affair, and it shows. Most Americans live in suburban or rural areas where automobiles are required for almost all travel, because low population density results in travel distances too great for walking and biking (or biking is discouraged by road design) and public transit is insufficient to meet most travel needs.
My previous essay on bike commuting demonstrates that it is possible to reduce your dependence on the automobile if you choose to live close to work; however, unless they live in a densely populated urban neighborhood, most American families have 2 or more automobiles. Wisely selecting your automobile(s) can greatly reduce fossil fuel consumption AND save money.
Unfortunately, Americans have been brainwashed to want big fast cars. One of my colleagues here at Rowan (Prof. Bhatia) likes to compare the 0-60 mph time of the original 1953 corvette to pretty much any modern minivan. The '53 corvette loses!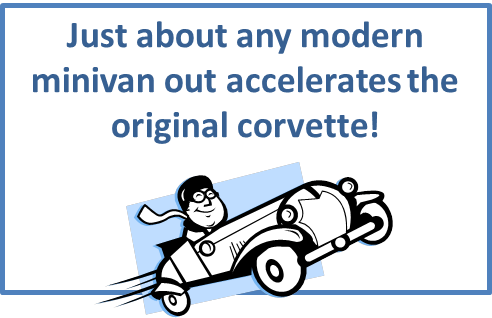 Too much of the technical improvements to automobiles and trucks have gone into higher and higher acceleration for larger and larger vehicles, at the expense of fuel efficiency. Hopefully, the Obama administration's Corporate Average Fuel Economy (CAFÉ) requirements will push the American fleet to greater efficiency. They raise today's levels of 23 and 27.5 mpg for trucks and cars to 30 and 39 mpg, respectively, by 2016.
In some cases, government subsidies have actually encouraged the purchase of large inefficient vehicles! According to a 2002 USA Today article, the US tax code provided $30,000 write-offs for light truck vehicle purchases (including SUVs) to business owners. After tax credits, a business owner could purchase a $47,000 Ford Excursion for less than a $20,000 Toyota Prius! The Prius only qualified for a $4,000 environmentally friendly vehicle credit. Our tax code should not encourage unsustainable behavior.
Few people take into account the true cost to own and operate a large vehicle. The Edmunds website has a "True Cost to Own®" calculator (www.edmunds.com/tco.html). I compared the 5 year cost of a Ford Expedition to a Ford Focus wagon. The result? $68,993 for the Expedition, compared to $35,958 for the Focus, including $7,200 more in fuel costs!

We can learn from other countries. The Everett family spent 6 months living in Sweden in 2006. The quality of life in Sweden is comparable to the US. Many families in Sweden have one car. This is possible because of the great public transport system (busses and trains). We had no car while we lived in Sweden. We walked to work and the grocery store. We took the bus or train to meet people and sight-see. We rented a car only twice the entire six months! Most of the cars in Sweden are small, in the Toyota Corolla range. When people take vacations in their small car, many rent rigid roof carriers or light aluminum trailers. That way, they get the cost savings of a small car most of the year, but can carry extra supplies when they need them. Many of the cars are diesels, which get great fuel mileage on the highway and have long lasting engines.
My wife and I have purchased a number of fuel efficient cars over the years. As students in the 1980's we bought a 1957 VW Beetle that got approximately 30 mpg on the highway! Good license plate!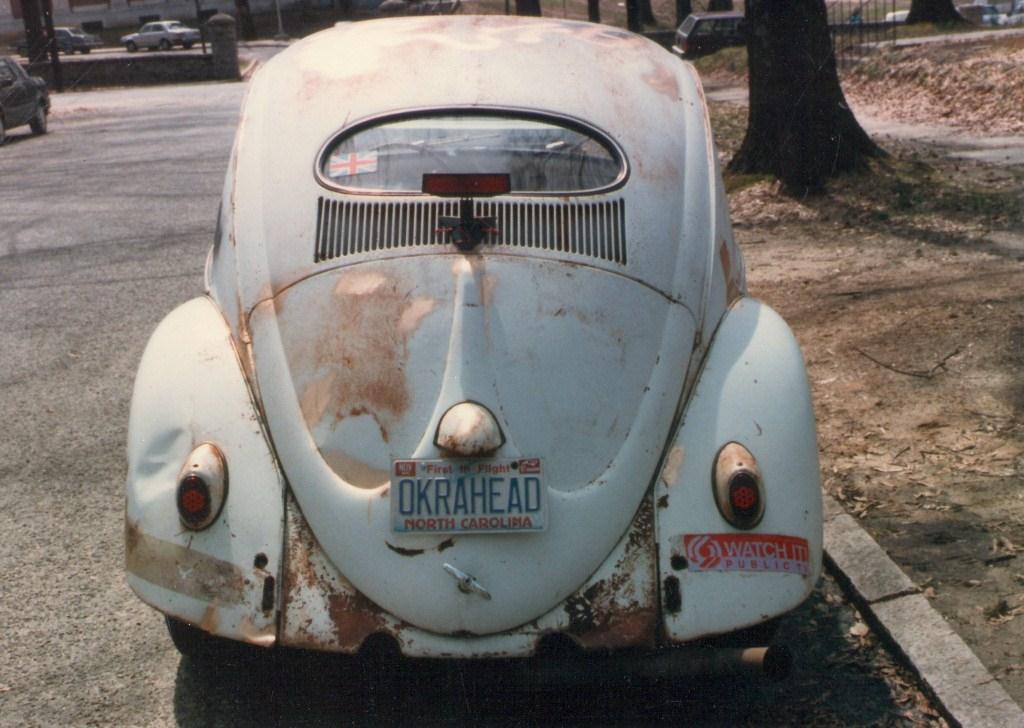 The first new car we purchased was a 1991 Ford Escort wagon (approximately 35 mpg on the highway). In 2003 we bought a Toyota Prius (~45 mpg in the city or on the highway). In 2011 we bought a VW diesel Jetta wagon (~48 mpg on the highway). All of these cars were plenty big for a wide range of daily activities.
[Full disclosure: we bought two big vehicles (both used), a 1995 Isuzu Trooper and a 2011 Ford E-250. The Trooper was purchased because, as a professor at the University of Oklahoma, I had field sites that could only be accessed with four-wheel drive. The cargo van was purchased to pull a boat. Neither car was (is) driven much. If it was possible to rent a vehicle for towing, I would probably not have purchased the cargo van. We also bought a 1963 Ford Fairlane while students in the 1980's. We had some fun cars when we were students. The picture below shows it before we added the bowling trophy as a hood ornament.]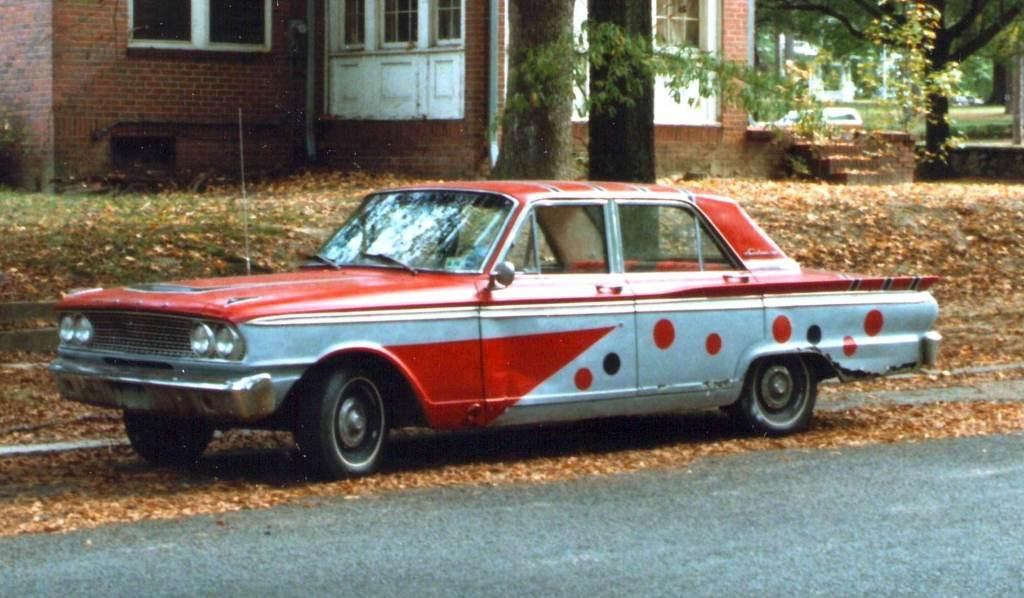 There are really only four car forms: the sedan, wagon, pickup, and van. Hatchbacks are very small wagons while SUVs are large wagons. I believe the small station wagon is the best multiple-use car form available. We were happy with our Ford Escort wagon and are happy with our VW Jetta wagon. The small wagon combines good fuel efficiency with relative large cargo capacity. If you don't need that, get a compact sedan! Good driving!
UPDATE (2/24/2016): The VW emissions scandal broke after I wrote this article. I am very dissapointed in VW. I hope that any repair will maximize fuel mileage (rather than power).
UPDATE (1/13/2022): VW bought back the car in 2018 and we bought a new Prius Plug-in.
---
Bicycle Commuting (10/24/2012)
My wife and I are lucky enough to both live within 1 mile of our work. I am a professor of Civil & Environmental Engineering at Rowan University. She is a science teacher at Pitman middle school. We've always tried to live close to work. This saves us time and money, and lets us combine exercise with our commutes! I've walked or biked to school or work my entire life, except for two years in middle school—when I was bused—and six months in high school after my bicycle was stolen. My longest commute was 5 miles one-way, for a summer job during college. Though our current commutes are short, they help us keep fit and get us outside twice a day. Some people go from house to car to work and back five days a week with little or no exposure to the outdoors. I doubt this is good for mental or physical health.
I ride a WorkCycles Transport, handmade by Azor in the Netherlands and sold in the US by Dutch Bike Company of Seattle and Chicago. I've always liked the rugged simple lines of the Dutch commuters. They are also very comfortable and low maintenance. Similar bikes are common in other parts of the world, e.g., the Flying Pigeon in China (which can be purchased in the US through a few vendors).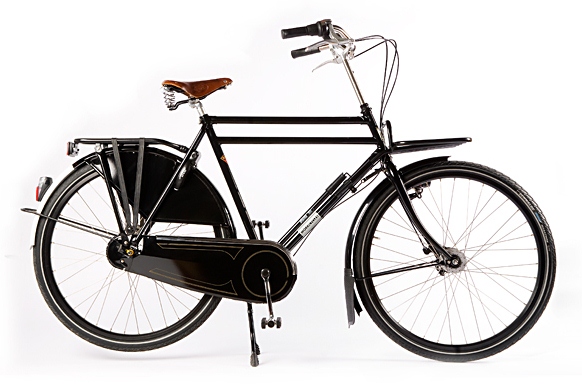 The Transport is a classic work bike, with the upright geometry typical of Dutch commuter bikes (a country with one of the highest rates of bicycle commuting in the Western world). The frame is old fashioned tensile steel, so it weighs a ton! The Dutch Bike Co. version has a few upgrades over the traditional Dutch commuter bike. The front wheel has a Shimano Nexus hub dynamo that powers a front head lamp and rear LED light. The rear light has a capacitor that runs the light for ~5 minutes while waiting at a stop light. The rear wheel has a Shimano Nexus internally geared hub that gives me eight speeds. Combined with the fully enclosed chain, the chain stays clean and maintenance is kept to a minimum. I also use my Transport for some shopping. The front rack is fixed to the frame instead of the fork, a more stable configuration. It can hold up to a case of a beverage of your choice. I have two baskets attached to my rear rack.
The Transport is a very comfortable and durable bike, good for short commutes. However, just about any decent bike can be turned into a commuter. My previous commuter was a mid-1990's Trek 930 Singletrack. Originally a rigid mountain bike, I turned the 930 into a commuter by adding smooth tires, fenders, and two Wald 582 collapsible wire baskets.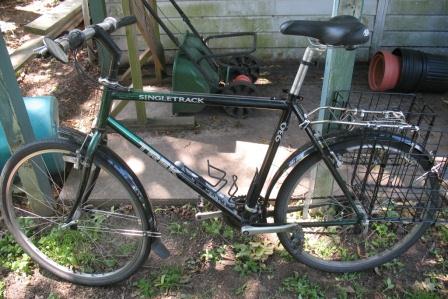 Living in Southern New Jersey, our rides expose us to cold in the winter, hot in the summer, and rain all year around. The morning winter commute can be as cold at 0 ° F, but is more often 30 - 35 ° F. In my opinion, 33 ° F and rain is worse than 0 ° F and dry! An all-season helmet, rain jacket (and pants for heavy rain), fleece, and decent gloves are all I need for a comfortable winter ride. My helmet is a Bern Brentwood Zip Mold Multi-Sport Helmet. It has a (removable) winter liner that keeps my ears warm. It can also be used as a ski helmet. My preferred gloves are Outdoor Research PL 400 glove liners (or similar). Though only liners, I've found them to be warm enough for most winter rides. They are thin enough that I can keep them on when I get keys out of my pocket to lock the bike.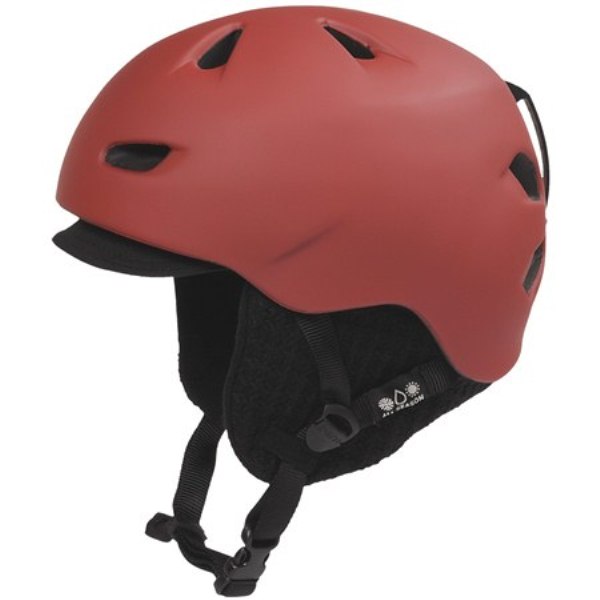 Summer time is hot and humid in southern New Jersey. Many people are deterred from bike commuting because they worry they will be sweaty when they arrive at work. I find the relatively cool temperature of the morning commute, combined with good health and a reasonable pace, allows me to arrive at work dry (even during my previous 2 to 5 mile commutes). More progressive employers may provide shower and changing facilities.
The bicycle is the most efficient form of transportation available. The fuel—food—is renewable, unlike fossil fuels. Bikes are also quiet and non-polluting. They are not dangerous to other commuters or pedestrians. On a bicycle you have an unobstructed view of your surroundings. Bicycle riding is also a great form of exercise and easy on the joints. Though it may be difficult for two-bread-winner families to locate near both jobs, it is often possible to locate near one. When looking for a new house, think about a bicycle commute. Good riding!
---